American Desserts For 4th Of July Independence Day
The independence day of the United States is the 4th of July, and the whole nation celebrates this marvelous day with respect and patriotism.  People enjoy the national holidays with family and friends. Different types of recreational activities took place across all states. 
Desserts have special status on this occasion of joy and freedom celebrations.  BBQ and stews are also very popular on the national holiday.
Here are some fantastic American Desserts for you to try on this 4th of July.
1. Strawberry Cream Cake:
On the 4th of July, most Americans have parties in their houses, and Strawberry cake with cream is a popular choice in the American desserts. It's simple and efficient, and it takes only a few minutes to be ready.
This type of strawberry cake is easy to make; you just have to slice them and then dip them in the vanilla cream, and you can sprinkle mini jellies or other sweets on this cake. Kids will love this cake and so as the adults.
This type of strawberry cake is recorded in history for about 150 years  ( late 19th century) that was the early form of the present-day Strawberry cake.
 Ice Cream Cake is a favorite among teenagers, and it's super cool in the process; you just need to mold the ice cream and combine it with the ready-made cake from the shop.
You can add your creativity to this cake to make it more lovely. Red ice cream and white cream will add the national colors in it, while the blue sorbet of blueberries poured on it will complete the flag theme for the cake.
3. National Flag Colored Trifle:
Trifles are awesome, and on a national day, if you prepare the trifle with US flag theme colors, it will be an excellent experience. You just need to obey the color code of the national flag. 
Red strawberries or any other red sweets or jellies with white cream or bananas and blue sorbet or raspberries will be perfect for adding charm to this patriotic trifle.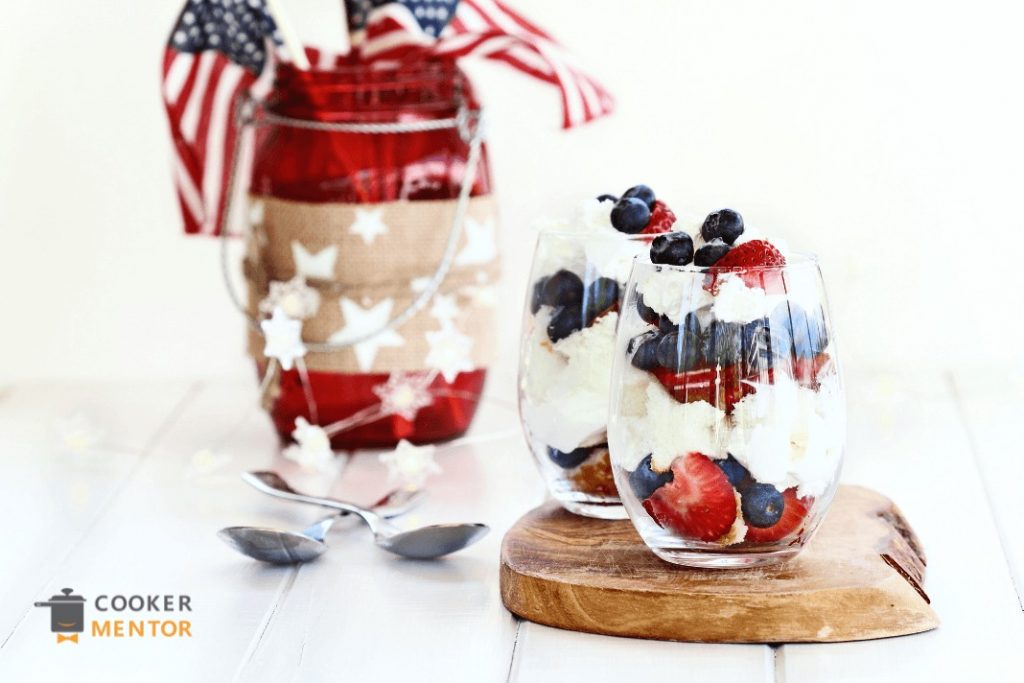 These are also very popular and now a native American desserts and sweet. These will be done quickly in the oven. To add the love of nation in these, simply invert the colors of them with suitable ingredients.
You can serve them to the guests or the kiddie pool party of mini patriots, so this will make their day a little better.  
This American dessert is unique and will be fascinating for the children,  it has Choco as the main ingredient, and you can do the toppings of the colors of your choice with nuts and almonds.
Carefully add the vanilla over the hot chocolate so they both can join firmly; this sweet meal will win the hearts of the family members on the national holiday.
Nation's Popcorn is a special dessert among American desserts and is also the easiest one. Just treat the corn and marshmallows in the oven or stove together to add the national colors in the popcorns.
Marshmallows will add the sweetness and the sticky nature so the popcorns will be intact in the bowl and will not disperse or drop from the bowl.
7. Patriotic Rice Krispie Treats:
We all know this from our childhood, Patriotic Rice Krispie Treats dessert is very famous among the children and its crisp will amaze your mind. You can add the flavors according to your taste, and it will ready in no time.
It can be colored according to the national color code, and kids will enjoy it the most.
You need to have red, blue and white-colored fruits for the making of this salad. Watermelon, strawberries, raspberries and bananas are some quick options for this purpose.
Apple can also be used for the white part, and to some level, the pineapple can also fill the gap. This healthy salad will fresh up your mind, and freshness will surround your family.
9. Crunch Cake Of Louisiana:
Crunch cake is another famous American desserts and it's a crunchy treat for your kids, it will usually not follow the color code of the flag, but even then, it will be worth it. Tender texture with buttery coconut topping will bring water in your mouth.
You can color it by trying different variant items in it.
This love-filled popsicle will bring your true patriotic self of yours, and it's yummy. The national colored Popsicles look great, and you can always experiment with their mold design.
To add different flavored toping, you can try many types of sweets or M&Ms on these Popsicles. As the day comes in summers, these will cool down the hot environment of the house and calm down the family.
Pie is a very delicious dish that will make your day when used with an Oreo base, and you can add the ice cream to it. This sweet treat is very delightful and attractive for young ones.  
The super-easy recipe of the truffles makes it a very simple make-at-home thing.  Actually, it is a perfectly balanced mixture of chocolate and cream.
On the 4th of July, you can use white chocolate rather than brown and sprinkle it with red and blue sweet mini objects.